If you're contemplating a real estate move, you're likely pondering the state of home prices. Despite the media buzz, national home prices aren't in decline; rather, they're entering a phase of more conventional growth. To truly grasp this trend, here's the context you need.
In the realm of real estate, there are recurrent patterns known as seasonality. Spring reigns as the prime homebuying season, characterized by heightened market activity. Summer continues with robust training, but as calmer months approach, the vigor wanes. Home prices closely mirror this seasonality because prices appreciate most when demand peaks.
Hence, a dependable, long-term home price trend emerges. The graph below, based on Case-Shiller data from 1973 to 2022 (unadjusted to display seasonality), illustrates typical monthly home price fluctuations: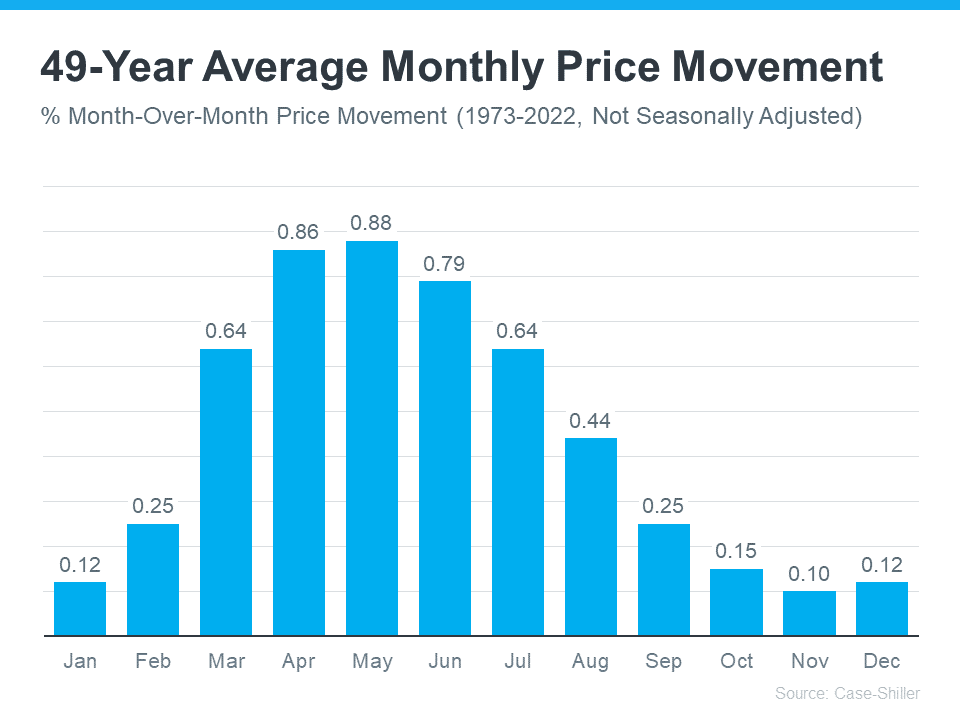 As the data illustrates, early in the year, home prices rise, though not as sharply as in the spring and summer months. January and February see less activity due to fewer moves in the colder season. As the market shifts into the peak homebuying season during spring, activity surges, resulting in more substantial price increases. Subsequently, as autumn and winter approach, activity eases, and price growth, while still appreciating, slows.
After several exceptional "unicorn" years, the return of seasonality signals the influence of today's elevated mortgage rates. Selma Hepp, Chief Economist at CoreLogic, explains:
"High mortgage rates have slowed additional price surges, with monthly increases returning to regular seasonal averages. In other words, home prices are still growing but are in line with historic seasonal expectations."
Why Understanding This Is Crucial
In the approaching months, media coverage will intensify regarding home prices, featuring industry jargon such as:
Appreciation: Signifying price increases.
Deceleration of appreciation: Indicates that prices are still rising, albeit at a slower, more moderate pace.
Depreciation: Suggesting price decreases.
Don't let the terminology bewilder you, nor allow misleading headlines to instill unnecessary apprehension. The breakneck pace of recent years' home price growth was unsustainable; a slowdown was inevitable. What we're witnessing is a deceleration of appreciation, not depreciation.
Remember, it's customary for home price growth to taper off as the year progresses. This by no means implies that home prices are plummeting; they're merely ascending at a more restrained rate.
Bottom Line
Despite fear-inducing headlines and confusion surrounding the state of home prices, the reality is straightforward. Home price appreciation is reverting to conventional seasonal patterns. If you have inquiries about local price trends, let's connect.