If you've been keeping up with the news, you might feel uncertain about the current state of home prices and worry about what the future holds. The headlines tend to paint a needlessly negative picture. However, to gain a clearer understanding, we need to consider a year-over-year perspective, which reveals that home prices dropped due to an extraordinary peak year rather than a long-term trend.
To avoid an unfair comparison with that peak, it's crucial to analyze monthly data, which tells a much more positive story. While local markets still exhibit variations, the national data offers encouraging insights.
By examining the recent monthly reports from three sources, we can see that the most severe home price declines are already behind us and prices are appreciating on a national scale.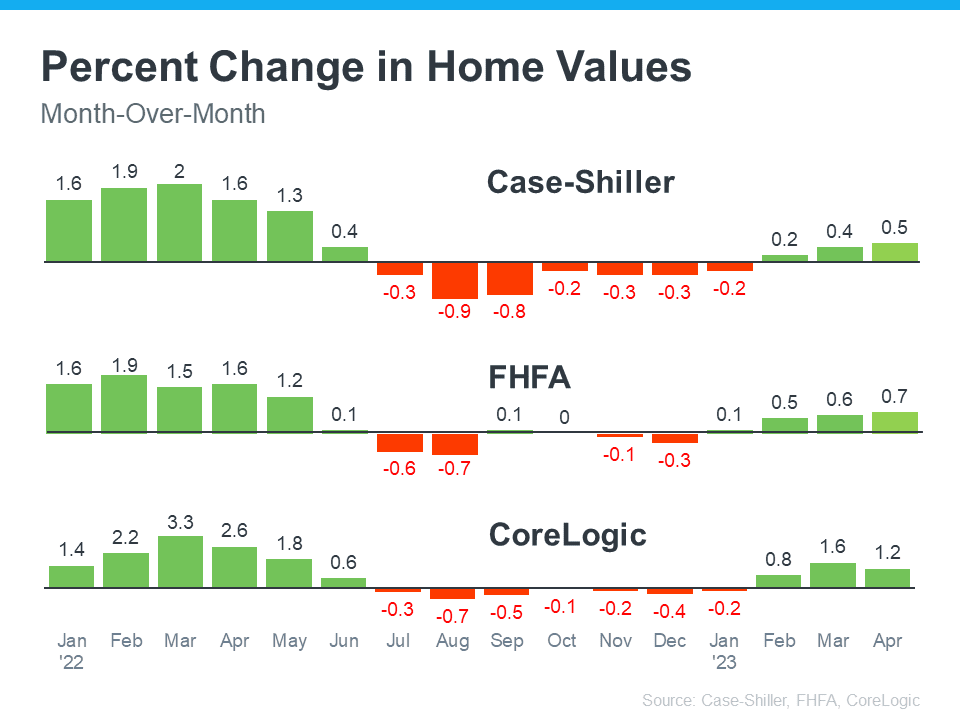 Analyzing the monthly view, the past year in the housing market can be divided into two phases. In the first half of 2022, home prices were rapidly increasing. However, starting in July, prices began to decline. By around August or September, the trend started to stabilize. Yet, the most recent data for early 2023 also shows that prices are once again on the rise.
The fact that all three reports indicate consecutive months of price increases is an encouraging sign for the housing market. This month-over-month data suggests a national shift is occurring, with home prices beginning to rise again.
Craig J. Lazzara, the Managing Director at S&P Dow Jones Indices, offers the following statement regarding trends in home prices:
"If I were trying to make a case that the decline in home prices that began in June 2022 had definitively ended in January 2023, April's data would bolster my argument."
Experts attribute the resilience of home prices, despite expectations of a crash, to the insufficient number of available homes relative to the demand from potential buyers. Even with current mortgage rates, there is a greater demand for homes than there are homes available for sale.
Mark Fleming, the Chief Economist at First American, provides an explanation of how the imbalance between demand and supply creates upward pressure on prices:
"History has shown that higher rates may take the steam out of rising prices, but it doesn't cause them to collapse entirely. This is especially true in today's housing market, where the demand for homes continues to outpace supply, keeping the pressure on house prices."
Doug Duncan, the Senior Vice President, and Chief Economist at Fannie Mae, asserts that the growth in home prices is surpassing initial projections due to the significant level of demand in the market:
". . . housing prices continue to show stronger growth than what was previously expected . . . Housing's performance is a testimony to the strength of demographic-related demand . . ."
Here's How This Affects You:
Buyers: If you've held back on purchasing a home due to concerns about declining home values, the rebounding prices should bring you some relief. Moreover, it presents an opportunity to own a property that typically appreciates over time.
Sellers: If you've been hesitant to sell your house due to uncertainties surrounding changing home prices, it may be wise to collaborate with a real estate agent to list your property. The latest data suggests that the market is turning in your favor, so there's no need to wait any longer.
Bottom Line
If you postponed your moving plans due to concerns about falling home prices, the latest data indicates that the worst is already behind us and home prices are appreciating on a national level. Let's connect so that you can stay informed about the local home price trends in our area.