Concerned about selling your home due to apprehensions about buyer activity amidst fluctuating mortgage rates? Rest assured, the most recent data indicates a robust presence of eager buyers in the market, actively making home purchases. Here's the compelling evidence supporting this trend.
The ShowingTime Showing Index serves as a gauge for gauging buyer engagement with property viewings. The chart below employs the latest available figures, contrasting them with data from corresponding months in previous standard years. This comparison vividly illustrates the remarkable and ongoing engagement of present-day buyers: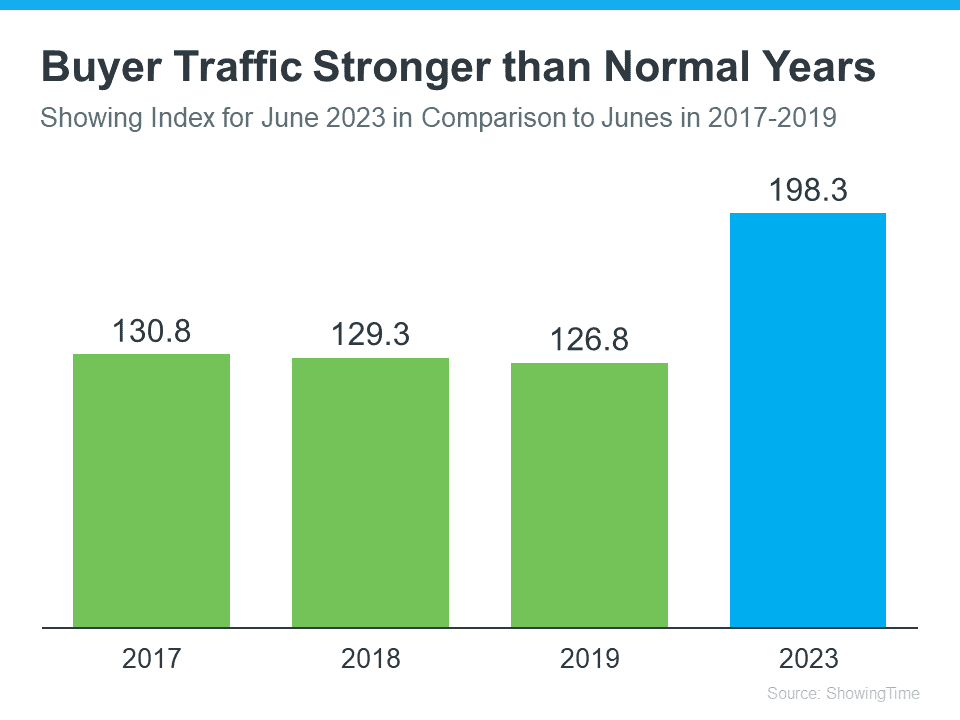 Upon scrutiny of the data, it becomes evident that the figures for June 2023, when juxtaposed with the historically expected activity in the real estate market during this period, unequivocally demonstrate the sustained vitality of buyer participation. Notably, this participation surpasses the established norms by a significant margin.
If you're contemplating the plausibility of this scenario, it's essential to acknowledge that buyers have gradually adapted to elevated mortgage rates, embracing them as the new normal. As articulated by Danielle Hale, Chief Economist at Realtor.com:
"Interest rate hikes continue to further cut into buyers' purchasing power, although they appear to have adapted to the higher mortgage rate environment . . ."
In essence, the fundamental need for buyers to secure homes remains constant, and those who possess the means to proceed within the current rate framework are decisively acting upon this opportunity.
The Key Message for You
Though the fervor witnessed over the past few years may have subsided, it is vital to comprehend that the present real estate landscape is far from dormant. The fact is: that buyer interest remains robust. Despite prevailing mortgage rates, a considerable number of buyers continue to execute their property acquisitions. With this understanding, why postpone your own property transaction when the market evidently welcomes your listing?
Bottom Line
Dismiss any reservations about delaying your plans due to apprehensions about your home's marketability. The reality contradicts such concerns, as the current environment showcases heightened buyer engagement beyond the anticipated norm. Let's initiate a connection to prepare your property for sale, ensuring it leaves an impeccable initial impression on these enthusiastic prospective buyers.